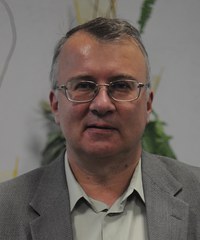 Head of the Department
professor Sergey
Kozlov
, D.Sc., laureate of Lenin Komsomol Prize for Science and Technologies, Head of the Russian scientific school "Femtosecond optics and femtotechnologies"
At the photonics and optical information technologires department russian and foreign professors are
trained professionals in one of the most innovative areas of modern science and technology.
Students of the department participate in international conferences and publish their research works in leading international journals. Beginning with the second course in the bachelor they have the opportunity to gain practical experience in the field of photonics and optoinformatics and to participate in international research centers and laboratories of the department, as well as leading companies in St. Petersburg.
Graduate students and post graduate students have scholarship of the President and the Government of the Russian Federation, the winners of the competitions of scientific works of the Russian Academy of Sciences, the world's largest scientific societies, such as SPIE, OSA, IEEE Photonics Society,
INTAS, CRDF
.
There are three computer labs and two supercomputers at t
he department
.
INTERNATIONAL INSTITUTE "PHOTONICS AND OPTICAL INFORMATION TECHNOLOGY"
Head -

Prof., Sergei A. Kozlov,


D.Sc., Head of the department of Photonics and Optical Information Technologies,

ITMO University,




St. Petersburg, Russia

Scientific advisor -

Prof. Xi-Cheng Zhang


H index = 78
Director of the Institute of Optics, University of Rochester,
Rochester, USA

International Institute of Photonics and optical information technology consists of four laboratories
"Femtosecond Optics and Femtotechnologies" Laboratory
Head of the Lab:
Tсypkin Anton
PhD, senior research fellow, assistant professor
"Quntum Information" Laboratory
Head of the Lab:
Gleim Artur
PhD, CEO «Quantum Communications»

"Digital and Display Holography" Laboratory
Head of the Lab:
Nikolay Petrov
PhD, associate professor
"Femtomedicine" Laboratory
Head of the Lab:
Olga Smolyanskaya
PhD, associate professor
Once again the Government of St. Petersburg in January 2014 confirmed the status of the leading scientific school "Ultrafast and ultrashort light pulses, nonlinear and coherent optics, terahertz optics"
(head Prof. S.A. Kozlov).